FREE SHIPPING ON ALL ORDERS OVER $50
RISK-FREE GUARANTEE
We know we know… sounds too good to be
true.
It's not easy to find something better
than what we just told you but it's true. We offer nationwide shipping 1-3 business days and same day delivery in Miami.
More cities coming soon!
We still haven't found something better than ordering vapes from the comfort of our houses and getting it delivered. Even faster than actually going to a smoke shop and with a better price!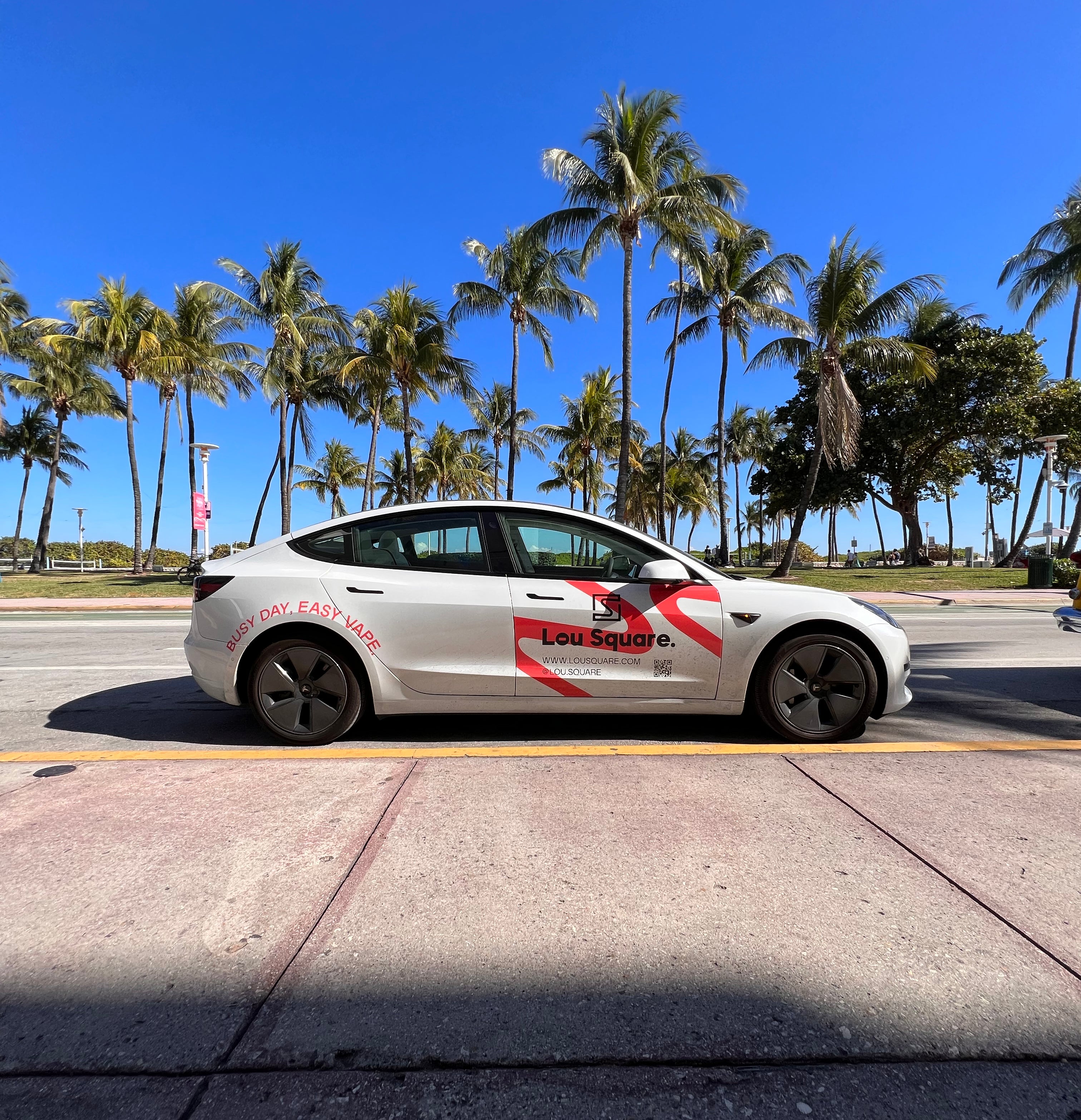 Subscriptions
All you want in one box!
1
ADD FAVORITE VAPES TO CART and choose subscription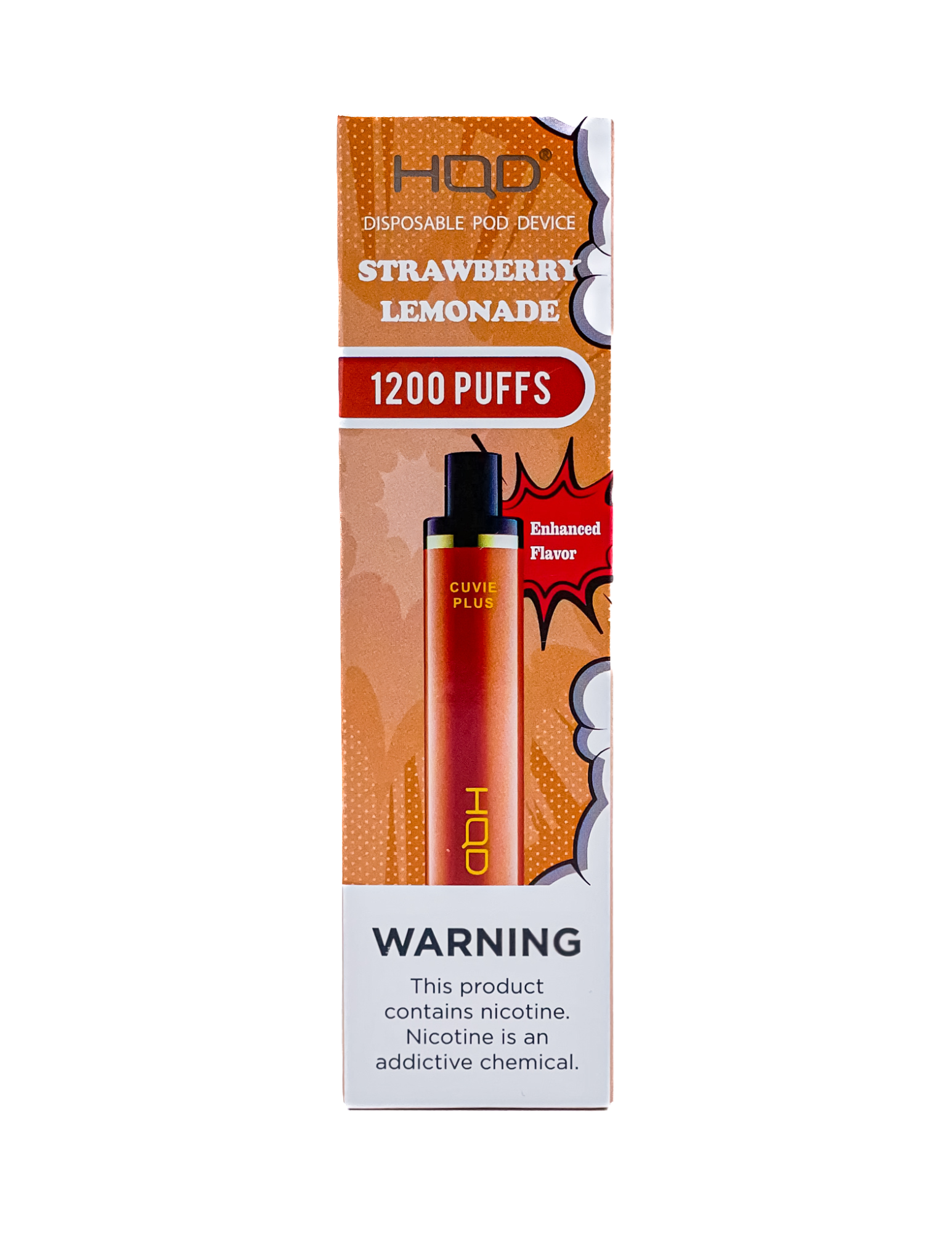 2
Control your delivery date & Pause or Cancel anytime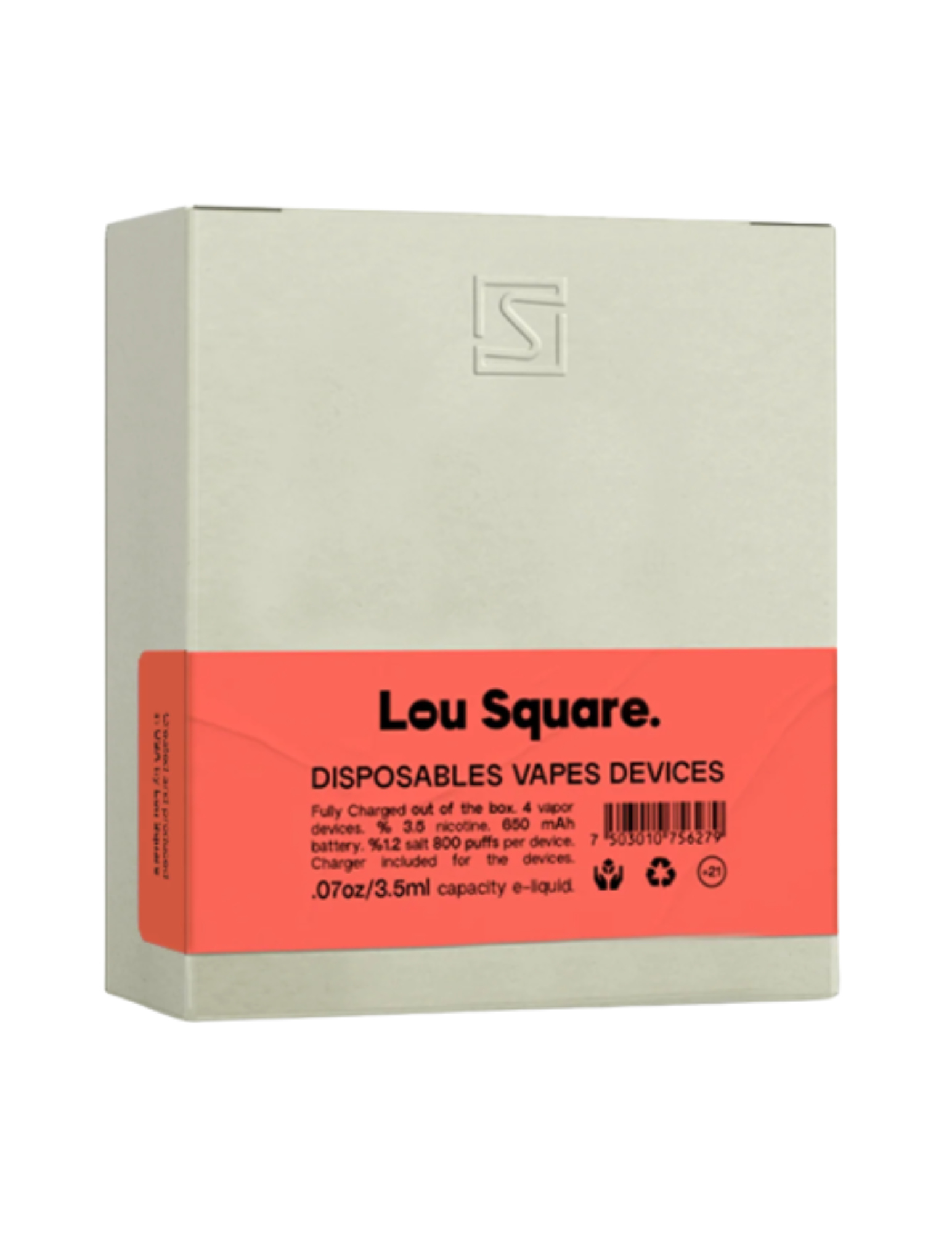 3
ENJOY 10% off and free shipping every time!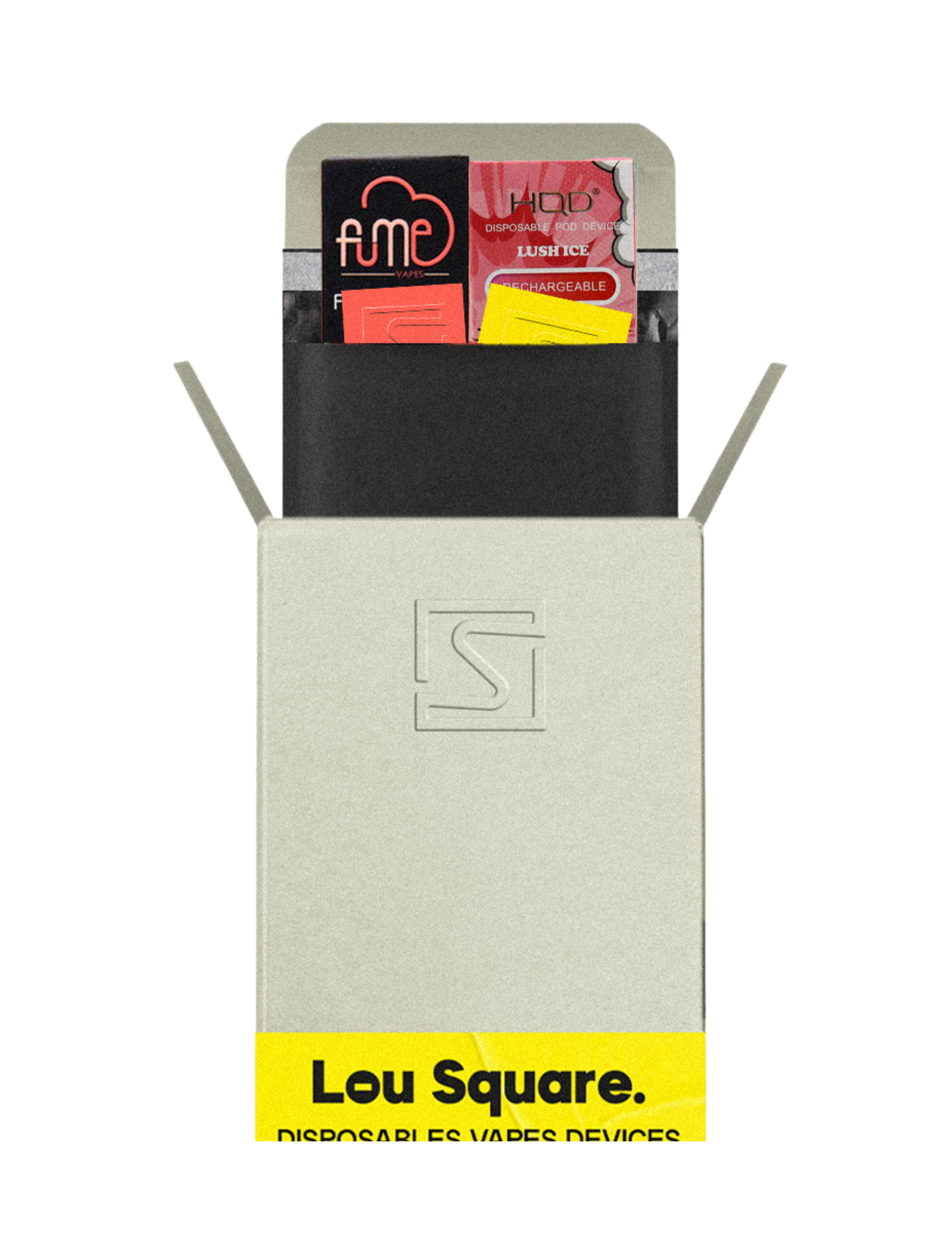 Lou Square Stores

"find them on every corner, shop instantly onsite"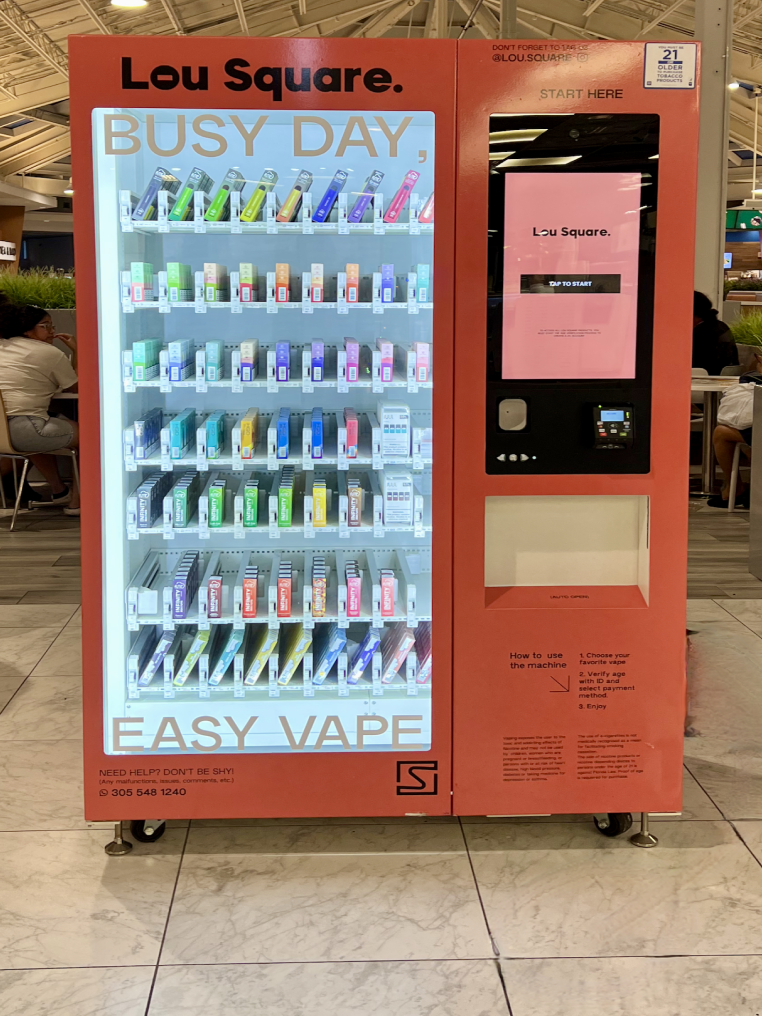 Sawgrass Mills
Market Food Court
12801 W Sunrise Blvd, Sunrise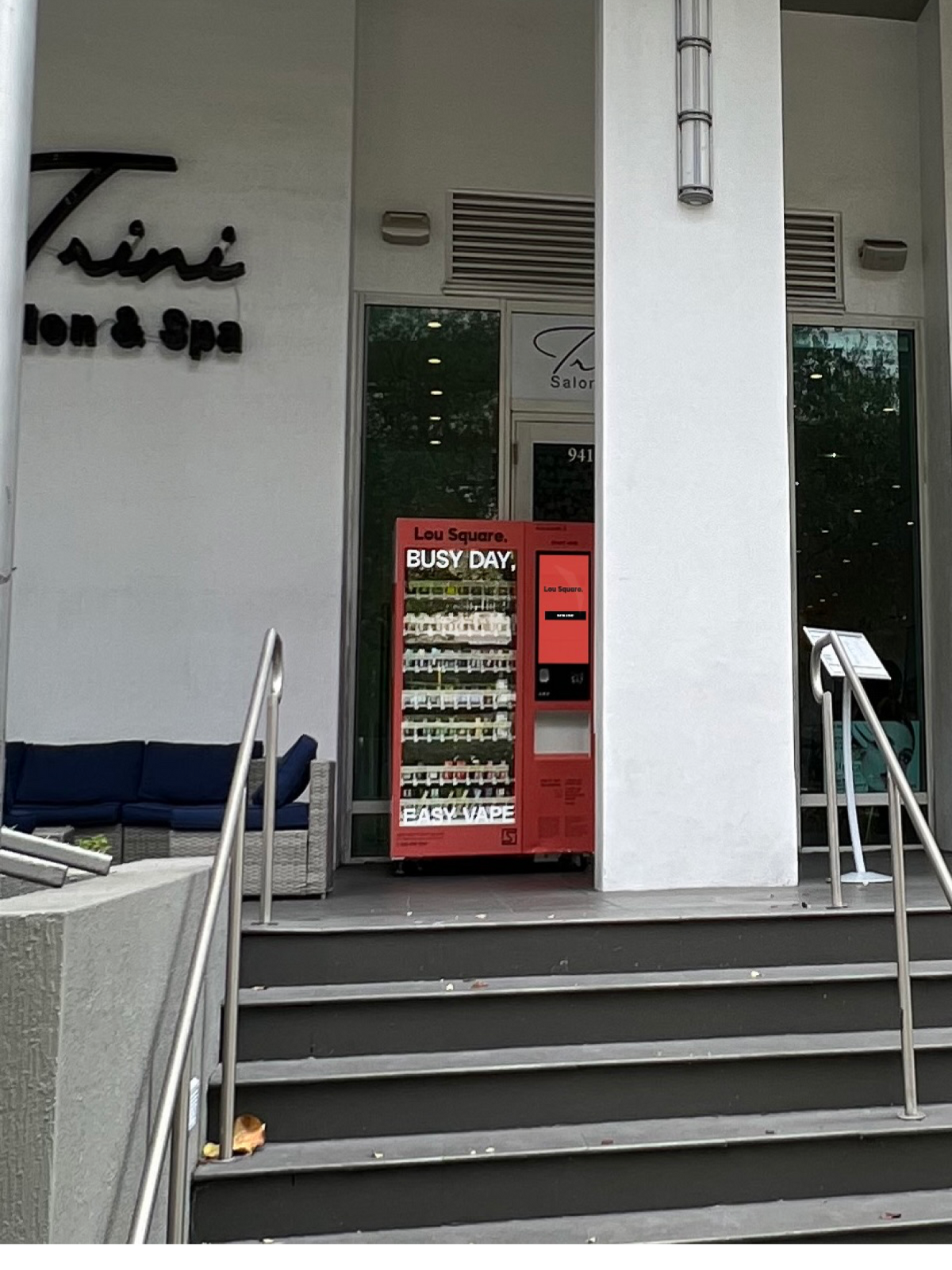 The Plaza
Brickell Ave
941 Brickell Ave, Miami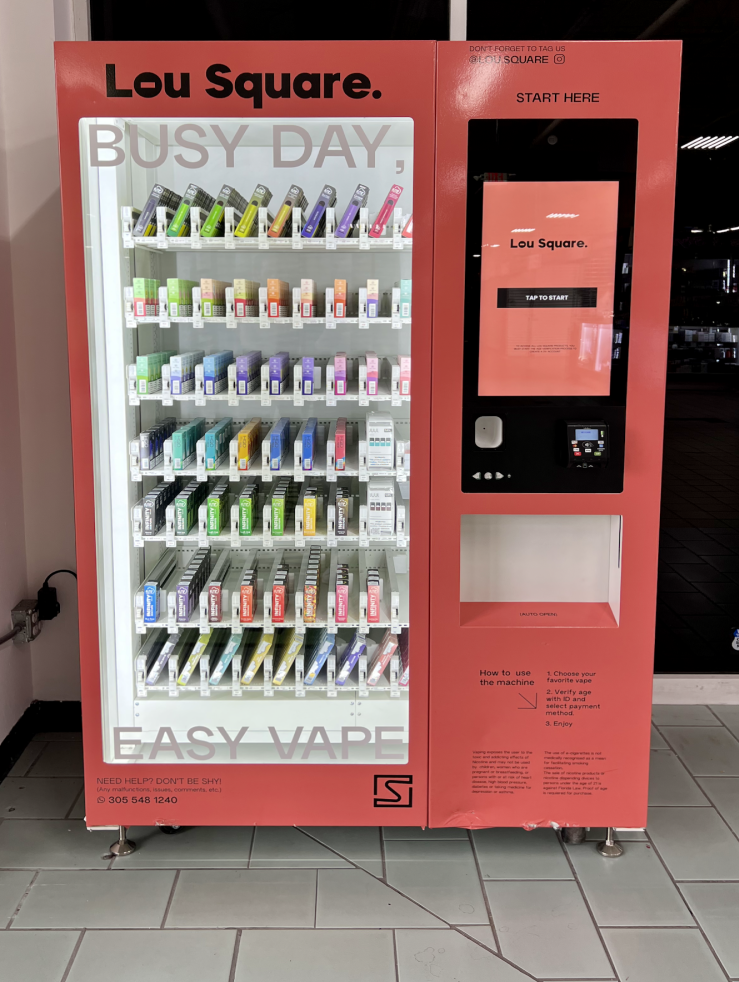 FESTIVAL
MARKETPLACE
2900 W Sample Rd, Pompano Beach
Reach out

see if your venue is a fit for a Lou Square Smart Store
at no cost

Who wouldn't want to add a Lou Square Store to their venue? 
It's not only an Innovative and Sleek machine but it can also be your new source of income.
Bringing a whole new seamless and unique experience to your customers!

Vape Delivery
Yo. Welcome to Lou Square. We're your new one-stop shop for everything vape related, including parts, rechargeable kits, disposables, and flavors. Well, we say one-stop, but it's really zero stops. As an e-commerce and vending machine service, we make it so you don't have to "stop" anywhere. There's no stores, no people to talk to, no waiting in lines, and no awkward small talk. If you want to order more vape products at 3:33AM, the last thing you want is to talk to anyone while doing it. So why not hit up a 24 hour vape shop where you don't even need to leave your bed, much less your house?
Online Vape Shop with Free Shipping. Do We Need to Say More?
It's all about convenience. If you're craving a particular flavor or want to try something new, it's usually a matter of running around to find a Florida vape shop that has what you're looking for. You're burning time and energy driving around looking for your preference. Worst of all, you're burning gas money, and that stuff ain't getting any easier to spend any time soon. That's why we at Lou Square became an online disposable vape shop. We're always just a couple of clicks away. We've made it so you can order your next customized bundle without having to go anywhere or even pause whatever you're binging on Netflix.
Oh, that reminds us: aside from being the easiest and most varied of the smoke shops that deliver, we're going to make your next vape delivery a lot more interesting. Odds are, you're going to be buying vapes or flavor pods regularly. You're probably going to want a reliable place that's always there to have you covered. And that's why it just makes sense to have our vape subscription box. It's not just vape delivery online; it's your choice of bundles. You want three different flavors every month? You can subscribe and choose a different mix for each subscription period. Best part? Subscription's free. We're not kidding. There are no subscription fees, monthly fees, cancellation fees, delivery fees... it's just the price of the products. After all, convenience means making things easier for you without charging extra for that convenience.
That's why we at Lou Square also sell our disposable vape pen online at lower prices than most other Florida vape shops out there. That's not because of product quality, either; we only carry all the premium brands like Uwell, Juul, MiO, FreeMax, and RELX. This isn't about selling you some third-rate nonsense. No, it's because we've done our homework; we know what you're paying every time you drive 15 minutes to pay too much for some halfway decent brand of Blueberry Whatever. Our prices reflect what we think the standard should be. If you're buying disposable vapes in Florida, you're likely going to be buying them again, so there's no reason to make each one expensive. We're thinking long-term for you. We've got you covered. You'd be hard pressed to find a more affordably priced online vape shop in Florida.
So, if you've been keeping track, that's 24-hour vape supply in Florida with convenience, premium brands, instant delivery options, free subscription, free delivery if you're subscribed, and all for lower prices than you're getting at Neon Cloud, or whatever your local place is called. In other words, with us, you're getting the best on the market quickly, affordably, consistently, and easily. We'll ask again: Do we need to say more?
Disposable Vape Delivery with All the Big Brands
We've kept our choice of brands varied but selective; we're not going to offer anything that's not high quality. In our online catalog, you'll find vape pens, parts, and rechargeables from Uwell, RELX, FreeMax, Juul, MiO, and more. Those are the brands that people have consistently chosen for good performance, good price, and great flavor, and we're not about to argue with the people about what they want. Plus, these are the brands that have shown the best track records of device performance. After all, why pay slightly less to risk your health? And speaking of which...
Ashes to Ashes. The Vape Pen Delivery Service is Healthier
Cigarettes were fine for a long, long, long time. Why fix what ain't broken, right? Thing is, cigarettes are broken health-wise. Traditional tobacco cigarettes famously contain 7000 chemicals, many of which are harmful to your blood pressure, heart, lungs, and more. You've got tar, which builds up in your lungs, and don't even get us started on carbon monoxide. That's the stuff they install alarms for in houses, remember? Carbon monoxide is that odorless, colorless gas that can literally kill you if you breathe in too much of it. Cigarettes actually contain that nonsense.
Now, we're not going to claim that e-cigarettes have magically fixed all of that. But they've definitely fixed a LOT of it. E-cigarettes contain a fraction of the chemicals found in your usual cigarettes, and the vapor from the heating process for the nicotine is less harmful than the smoke you get from burning tobacco. You're getting the important parts of the cigarette without many of the extra health grievances that no one signed up for. When you choose the vape shop, you're not choosing carbon monoxide. That sounds like the smart choice to us, honestly.
Get Your Disposable Vape with Next Day Delivery
Our vape delivery online speeds vary, sure. But they vary between guaranteed next-day delivery and "wow, I ordered a pizza at the same time, and the vape arrived first." That's not an exaggeration. If you're in need of a vape shop in Miami, we provide same day vape shop delivery so you can get you your order in an hour. That's the maximum, too; we could get your order to you even faster depending on where you're located in Miami. Anywhere else in Florida, we offer next day vape delivery, and you can order at any time of the day for that.
We mentioned being a free delivery vape store too. If you're shopping with a subscription, your delivery will always be free. You'll only ever be charged for the cost of the order itself when you're subscribed. If you're not subscribed, you'll get free shipping on all orders over $40. So, to get that disposable vapes free shipping online, you'll be buying a handful of flavors, which will probably last you around a month. So, you'll be buying a handful of products every month. Sounds an awful lot like a subscription, doesn't it?
Subscribe to Our Vape Shop in Florida For All the Good Deals
So, we might have mentioned our subscription program once or twice. Here's how it works. You can choose subscription periods of 15 days or 30 days, neither of which is cheaper than the other. After all, neither one costs anything. You're not paying a fee by month, by week, for signing up, for delivery... for anything except the products you want.
Every subscription period, you can go online and choose one of the bundles. These vary from Nano Bundles, with 3 disposable pens or flavors, up to... whatever, really. You have the option to just order however many products you want each time. There are no extra charges for bundle size. You pay for what you're purchasing, and that's about it.
Questions, Locations, and Get Started on Your Vape Delivery Online
Sound good? We figured. Lou Square is a Florida vape shop online that is designed to be on your side, after all. If you'd like to get started buying disposable vapes online, feel free to start browsing our fast shipping online vape store. If you like what you see, you can consider our subscription service, which you can check out under "Subscription" above.
If you have any questions or concerns regarding our vapes in Florida, you can shoot us an email using the form under "Contact." We'll do our best to get back to you in under 12 hours. And if you'd like to hit up one of our vape vending machine locations, you can use our locator under "Find Me @ Lou" to find your nearest one in Miami
Discover HQD Cuvie Mars – Elevate Your Journey!
A world of exceptional flavors with HQD Cuvie Mars. Elevate your senses and explore these remarkable blends that promise a unique taste adventure.
Unleash the power of 8000 puffs and a built-in 650mAh battery, it's your ticket to extended vaping enjoyment.